West Shore Parks & Rec is running a program called "Girls Got Game" and we still have a few more spaces to fill. A It's for girls ages 9-15yrs. Great, great program and quite inexpensive to do. This program starts tomorrow night.
National Champion as a player
National Champion as a coach
Head Coach of the UVIC Women's Basketball Team
And now… West Shore Parks & Recreation
We are excited to announce Carrie Watts – Head Coach of the UVIC Women's Basketball Team – as one of the guest coaches for our program, Girls Got Game!
The Girls Got Game multi-sport program is designed for those who identify as female aged 9 to 15. In this program, girls will work on fundamental movement skills and developing their physical literacy to become more confident in exploring different sports. Each week, the girls will experience to different sports and physical activities, which will be led by strong female athletes and coaches from the Greater Victoria region. Additionally, there will be core leaders who are with the girls throughout the program so they can build trusted relationships.
There are still a few spots left, so don't wait – register today!
Program Details
#5751 Thursdays
(9-15 years)
January 20 – April 21
6:00 – 7:00 PM
JDF Indoor Sports Centre
$42/12
No classes March 24, 31, & April 7
Donovan Coates
Recreation Programmer –Sport and Youth
250-478-8384 ext. 8641
Dear Wishart Families,
Yesterday we welcomed students back to our school. Last week, our District and staff team revisited our COVID 19 Health and Safety protocols and planned for continuity of learning, in the event we need to shift to at home learning. Please see the district email that was sent out by our superintendent on Friday, January 7th for more information regarding these potential closures.  In the near future, each classroom teacher will be reaching out to their families regarding what Temporary-At-Home-Learning could look like for their class of students.
A reminder to all families:
Please make sure you do a daily health check for your child each day and if they have any symptoms, including cold and flu symptoms, that they are kept home until the symptoms are resolved. If children are at school and become sick, we will be calling home and requesting a pick-up. Click here for the BC K-12 Health Check App.
Please send your child with a mask to school and remind them to wear it properly, including sealing around the nose and mouth. Please send extra masks so they have a change in case of water damage/dirt.
Pick-up and drop-off areas have not changed as we have designated doors for students to enter and exit the school:

To avoid congestion, we ask parents to wait behind the coned-off areas
Please respect this space for the health and safety for students and staff

When picking up and dropping off your child please avoid congregating in groups.  Please drop your child off as close to the bell as possible, and then we ask parents and family members to leave the school grounds.  At this time, our playground is still open before and after school for children to play.
Please make an appointment if you would like to meet with staff; please phone the school (250 478 9528) prior to entering the building.
If your child is late arriving to school, please take them to the front of the building and call the school to let us know that they are here. Please wait until they are let into the school.
If your child is going to be away due to illness, please let their teacher and/or Nikkie know (nolsten@sd62.bc.ca)
Enhanced Safety Protocols During School
We continue to review and revise our in-school safety measures including:
Reminding students to always wear their masks indoors, including when they enter the building from outside play time. It would be helpful if your child has a lanyard or clean pocket/container they can put their mask in when they go out to play.  We will be reviewing how to properly wear and then remove masks.
Reviewing handwashing and hand sanitizing processes
Reducing student traffic in the hallways, and when entering and exiting the building by individual classes and not in groups.
Reminding students to keep their hands to themselves when playing and not to touch other students.
Postponing Hot Lunch – PAC popcorn only for now
January PAC meeting will be held on January 19, 2022 at 6:45 pm. The meeting will be on-line via MS TEAMS. Please email wishartpac@gmail.com if you would like to attend and a link will be sent to you.
Although this is not the start to 2022 that we had anticipated, we are excited to have students back. Please know that our schools are safe places, thanks to the collaborative work of our families, staff and students.  Thank you for your help in keeping our school community safe!
Sincerely,
Mrs. McArthur
Registration for kindergarten is on a first-come, first-served basis.  Please see below for Registration start dates.  Please visit the following pages for more information:
*Note: Parents MUST attend a Nature K info session prior to registration. Please see Nature Kindergarten page for dates.
Registration for the 2022-2023 school year starts January 10th for French Immersion and Nature Kindergarten; January 24th for regular Kindergarten students.  All SD62 elementary schools offer full day Kindergarten for our youngest learners.  Kindergarten students will begin school in the September of the year that they turn five.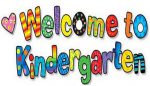 As a growing school district, some of our schools are nearing capacity. Visit our Student Enrolment Priorities page to learn more.
Please note registration for French Immersion Kindergarten and Nature Kindergarten will take place two weeks before General Kindergarten registration. This change will allow families who are not placed in those programs to participate in General Kindergarten registration with ease.
HOW TO REGISTER
We have made updates to our registration procedures and to the type and amount of documents required. Please take a look at our Registration Guide to make sure you have the required documents ready to upload during registration. Registration will be incomplete until all documents are uploaded. Due to the pandemic, we will not be accepting documents brought in-person.
Listed below are the upcoming Wishart Spirit Days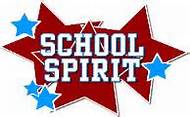 Friday, January 28th – Rainbow/Bright Colours
Monday, February 14th – Red and Pink or Positive message shirt
Friday, February 25th – Jersey Day or red/gold
Friday, March 18th – Fun Socks
Week of April 4-8th – Literacy Week – theme days to be announced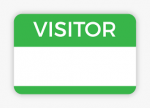 If you need to visit the school for any reason please call the school office in advance to enquire about making an appointment. (250-478-9528)
If your student is arriving late to school please call the office (250-478-9528) when you arrive and we will come out to the coned area and bring your student in to the building. If you are picking your student up early, please call the office when you arrive in the parking lot and we will bring your student out to the coned area for you.
Please use this link  https://consent.sd62.bc.ca/apps/OnlineConsent  to consent to the following: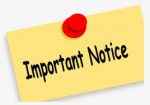 Daily Student Health Check Agreement
Flip Grid
Freshgrade Consent
General Consent for School Fieldtrips/activities
Google Apps for Education Consent
Internet Access Consent
Media Consent
Na'tsa'maht Indigenous Education
Online Learning Platforms Consent
School Cash Online Consent
Please complete your student consents as soon as possible
Just a gentle reminder to parents to check their students information on the parent portal- https://myeducation.gov.bc.ca/aspen/logon.do.  If you require any updates to be done regarding phone numbers, addresses and authorized pick up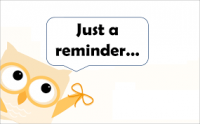 people please email the information that needs to be changed in to the school – nolsten@sd62.bc.ca
The parent portal is now open.  Any parents unable to log in – please try to re-set your password.  If you are unable to re-set your password without assistance please email the school (nolsten@sd62.bc.ca) to inform us.  Once your passwords/usernames have been set up for you you will receive an email.
"MyEdBC" is a secured online portal used by most school districts in BC. Security is guided by BC's School Act and FoIPPA. In the Family Portal, parents can:
Check attendance
Ensure contact information is up to date
See assessments/grade information/transcripts
View report cards and summary of progress reports (not in elementary schools at this time)
How to log in and access MyEducationBC: – use this link https://myeducation.gov.bc.ca/aspen/logon.do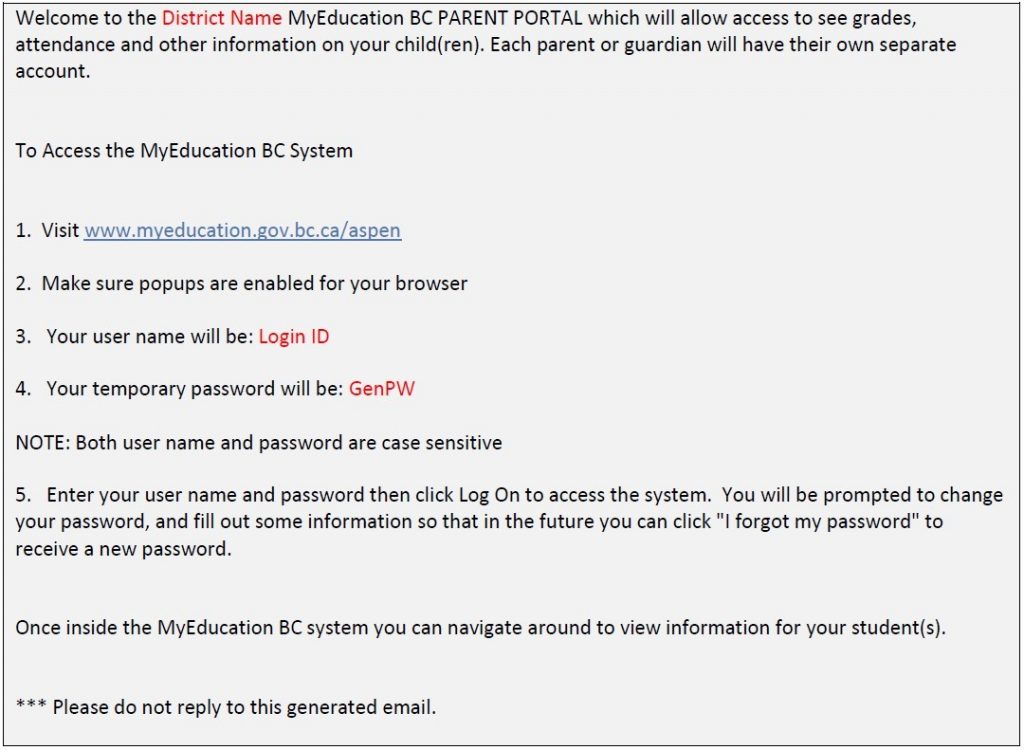 For our initial log in you must use a laptop or desktop computer. After the initial log in, you can use your phone or other devices.

Make sure pop‐ups are enabled for your browser

Please follow the instructions on the attached document  to login and change your password-  SD#62 – MyEdBC Family Portal Instructional Manual
It is School Board Policy that animals are not allowed to be on School District property.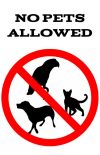 The purpose of this policy and procedure is to ensure the greatest possible level of safety for students and staff with regard to animals on School District property and in school buildings. This general prohibition includes domestic dogs, cats, birds, and other pets, and especially applies to potentially dangerous exotic animals.
Some exceptions may be allowed, only with the prior approval of the Principal, and could include:
– Vision, hearing and service dogs.
– Police dogs under the control of a police officer.
– Pets for show-and-tell.
– Small pets kept in classrooms under the supervision and care of a teacher.
– A demonstration at a school assembly.
Prior to allowing animals in schools or classrooms, steps are to be taken to ensure that students and employees are not allergic to the presence of these animals, that the animals will present no physical danger to students or employees, and that the animals are free from any disease or parasites.  Prior to introducing any animals into classrooms and using animals as part of the educational program, teachers shall make all efforts to ensure that students receive instruction in the proper care and handling of animals. Owners of animals will be responsible for the safe and sanitary removal of their pet's excrement from buildings and grounds.